We recognize that all our patients are unique and deserve to receive orthodontic care that reflects their individual needs. Our experienced and talented team is committed to working with you and your family to create a comfortable, stress-free, and rewarding orthodontic experience every time you visit our practice.
We are pleased to welcome you and your family, and we look forward to working with you.
Cindi
Expanded Duty Dental Assistant
It's hard to choose my "favorite" thing about my work; I truly love all of it! If I had to pick just one thing, though, it would be our patients. I love getting to know each patient on a personal level and building a trusting relationship with them. It's a great feeling to help people feel safe and relaxed at the dentist, and I am rewarded by their smiles.
Working in the clinic, I seat patients, make sure they're comfortable, and prepare them for their procedure. Staying chairside, I assist the doctor while supporting our patient and talking with them about what we're doing. When that's finished, I offer home care instructions, answer questions, and check that they're pleased with the visit.
Outside of work, I love time with my young son, being with family and friends, and enjoying the great outdoors.
Kristen
Dental Assistant
I love helping our patients and families feel welcome and at home in our office. It's amazing when young patients relax and know they're safe with us: I love it when they begin to smile and joke with us! It's fun to learn about people's lives and activities, and I enjoy laughing with them and becoming their friend.
I assist our doctors to make sure patients have the best experience. I seat patients and check that they're comfortable in the chair, prepare them to see the doctor, and explain what will happen. While I assist the doctor with the procedure, my attention is always on our patient: I talk with them about how well they're doing. When the doctor's done, I provide home care information, answer any questions the patient or parent has, and make sure everyone's happy with the visit.
When I'm not working, I love spending time with my family, especially my four wonderful children. I really like the outdoors and enjoy hunting.
Valerie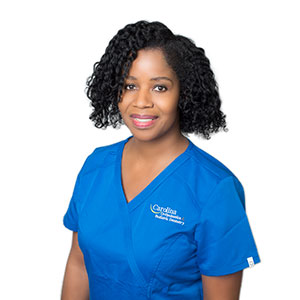 Front Desk Coordinator
I love meeting and greeting our patients and families, and getting to know them on a personal level. I'm lucky because I get to see people at each visit, so we have time to build a rapport. It's fun to hear what's happening in their lives and keep up on their adventures!
I answer phones, welcome and check in patients, update their records when needed, handle insurance processing and patient billing. I also check patients out when finished, accept payments, and schedule future visits.
Outside of work, I can be found spending time with my family. We enjoy traveling, attending sports events, and going to music concerts.
Over 20 years of experience
in the Columbia, Lexington, and Charleston areas